BEPC September 2017 Newsletter -Updated 4/9/17
Next rally Sunday 10th September at our club grounds
Groups for tomorrow are now on our FB group.
Please note I have put all the kids in the games team together for the first lesson (so they can practice together). They then get split up again so please make sure you end up it the right place. There is also some opportunities for the riders to pick what activity they would like to do as we are fortunate to have lots of instructors tomorrow.
These include:
Anne Leviston
for show jumping- Anne will build a small course for practice for our
event. Jemima Draper who is a past member and will take you through your dressage tests. Alisha Macumber our games superstar will concentrate on our games team but is also available for fun activities with the other groups. Alison Hilet the lunging queen has successfully taught kids this technique up to K level a fantastic skill to have in your tool kit. Olivia Burke show preparation princess will be there with her tools of trade to get everyone on track for the show season.Penny Dyson will teach our beginner riders their handy course for our event and be observing any certificate work.
Please be ready for gear check at 10:10am. If we can start early that would be a bonus as it will be a big day with 4 lessons.
Roster for this rally
DC Penny Dyson
Gear check- Katrina Mottram
Cards- Nicole and Penny
First Aid-
Lunch catering and Preparation Kylie Duncan and Kim Higgins
Club room and bathroom cleaning- Nicole Graham
Poo Pickup- Tiarhn & Tia
Opening-Penny
Closing- Leah
RSVP on facebook for groups and catering or to Penny 0408 821 249
Don't forget to enter in our event on Sunday 8th October.

Not sure what grade or how to, ask Penny or Sharon.

Entries are done on-line.

Click Here

Wanted riders for our games and musical ride teams

Please talk to your riders about this. At the moment we don't have enough for a team but could look for a composite tram with another club.Expressions of interest are being taken for Games teams (6-7 riders) and Flat Teams (2 or 4 riders) and musical ride teams (4 riders). Competition is Sunday 24th September at Barmah. Selection will be made by DC (Penny Dyson), Coach of games team( Alisha Macumber) and coach of flat/musical teams (Jodie Irwin). Practice will be at pony club rallies with the possibility of more practices in August and September. More information available herehttp://www.ponyclubvic.org.au/?Page=757If you (or your child) is interested please let Penny know before the September rally. We can enter multiple teams and will need riders in reserve. We will also need team managers to assist the coaches.
---
What has been happening around the club
We had a very successful camp over our 2 day rally in May. Instruction Anne Leviston, Edwina Hare, Nicki Chalmers and Rebecca Todd.
For our June rally we headed to Melbourne 3 Day Event. This is a fantastic photo capturing the moment by Anne Levistan. We all enjoyed watching local rider Lincoln Spiers and we may also one day appear on a TV documentary on the 3DE.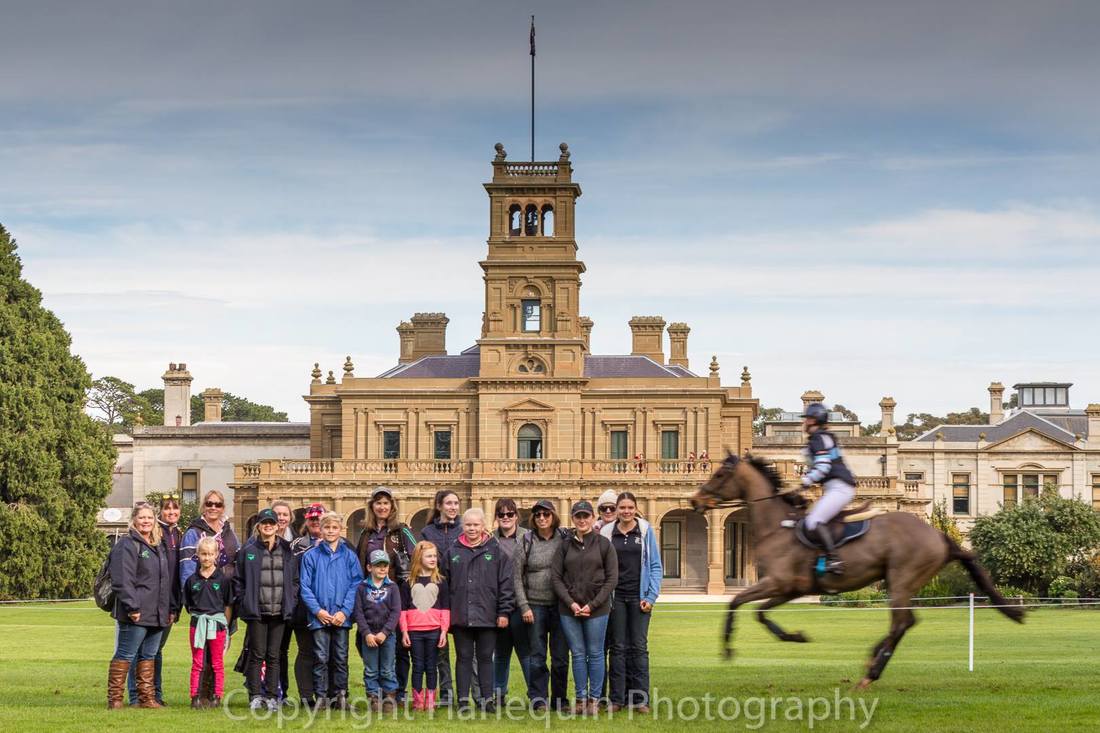 What a great action shot
---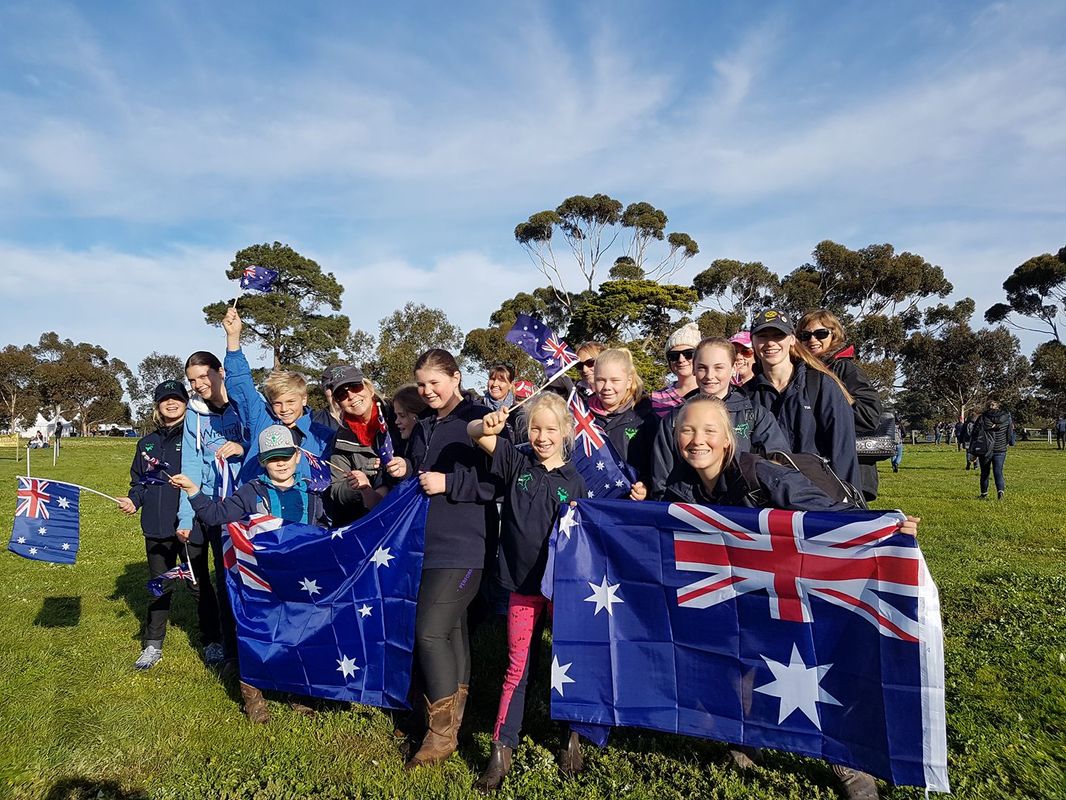 At our August rally we had some new members join us. Instruction was games, jumping, team of four and certificate work.
Congratulations to Nikita, Oskar and Maya passing their D certificates.
The final touches were also put on the round yard. We used the money we raised from working for the gun club to purchase the yards. Thanks to the Blachford family for installation and Jodie Irwin for organising the sand
First aid

Want to complete your first aid the club is happy to support you financially to do this. We need a qualified first aider at every rally. Great life skill to have. Talk to Alison or Leah if you are interested.
---
Roster
The roster seems to be working well. Thanks to all that are pitching in. It is really important that all members RSVP so whoever is on catering knows how many people there are for lunch and the DC can plan the groups.
Fundraising
Thanks to all our sponsors for our June Horse Trials run in conjunction with Nathalia Pony Club.


Coming up next is our Show jumping and Dressage Jackpot on Sunday 8th October. We are looking for sponsors and raffle prizes. If families have any ideas please let Nicole know.
---
Rallies and local events coming up TBC
BEPC Rallies & Events
Sunday 10th September 10:30 am -3 pm
​Sunday 8th October BEPC Show Jumping and Dressage Jackpot at our grounds. Show jumping and Dressage Jackpot 2017 Must enter prior.
Sunday 15th October 10:30 am -3 pm at the old Barmah Racecourse, Moores Rd, Barmah
Sunday 12th November 10:30 am -3 pm
Sunday 10th December 10:30 am -3 pm
Events near us
September 3rd- Rochester Pony Club Gymkhana
September 10th- Kerang HT
September 15th and 16th- SJ and Dressage Qualifier at Mildura
September 24th. NZ Games and Musical ride at Barmah



For sale- please note we now have a mouse proof box in the store room for for sale items. please put them in a plastic bag with an envelope stating your name, phone number and the price for each item so if anyone is after anything we can sell the item and get the money to you.
for sale:
1 PC jumper size 7 $20, pair of cream windsor size 6 jods $20. perfect condition contact Kim Higgins

Out and about- please email results and photos to Penny

Club members at Interschools in July. Sarah, Georgia, Ava and Charlie