Bamawm Extension Pony Club Inc A0045235T)

presents the
Show jumping Jackpot Dressage JackpotLearner participation
Open and Pony Club events
Sunday 8th October 2017Entries now closed times will be available here
Provisional times are now available. If you have not paid please do so immediately. We are just a small club trying to run a fun day we can not afford to support entries that have not paid.
Electronic transfer to Bamawm Extension Pony Club Inc, BSB 633000 ACCT 154821003 (Bendigo BANK ECHUCA) please include your name and invoice no (or event) in the details.
​​
TIMES AVAILABLE HERE


We can't run this event without volunteers. If you volunteered for a job please check the roster available
here
All enquires to Sharon EdwardsPhone: 0457 837 589 email: shazaleepark@hotmail.com
Venue: Bamawm Extension Recreation Reserve, Corner Bamawm & Echuca-Mitiamo roads, Bamawm Extension. (RACV Vic roads country street directory, edition 7 map 31, B5)
---
---
Please note on
Saturday 7th October 2017
Echuca & District. ARC Inc are running an Official HRCAV
Dressage & Combined Training at the same grounds
Entry information is available
here
​or call Debbie Wild 0488 570 888
---
On Sunday 8th October we are offering the following competitions
​​
Learner Participation All riders in this event will receive a feedback sheet and recognition of participation Entry fee $20
This event has been designed as a participation event for
young pony club beginner
riders. It involves riding to letters (as an introduction to a dressage test), followed by an activity course. Riders may be led and coached. All riders will receive a feedback sheet and a prize for participation. Instructions are available h
ere
.
Dressage Jackpot
Grades 1 to 5Entry fee Pony Club $30, Open $40
Ribbons to sixth place for each test. Champion and Reserve Champion Jackpot based on the scores of two tests.
Dressage tests and rules available on
PCAV website
. Please note -Dressage tests may be called for Pure Dressage.
Tests will be
tests B and D
for all grades
Show jumping Jackpot
​Grades A to FEntry fee Pony Club $30, Open $40
Ribbons to sixth place for each Event. Champion and Reserve Champion based on the scores of two show jumping rounds. Heights and rules for
Showjumping Rules
PCAV effective 1st February 2017 on PCAV website.
Event 1. Competition over 2 rounds (article 273 2.1, 3.3.2) Event 2. Table A (article 238 2.2) As per
FEI rules 2017
Please be prepared to walk the course 30 mins prior or when called on the PA. Please notify the judge if you are held up by another event.
Yards
Limited yards are available at $10 per day, these must be booked and left clean please call
Debbie Wild 0488 570 888 to book.
Show jumping heights and speeds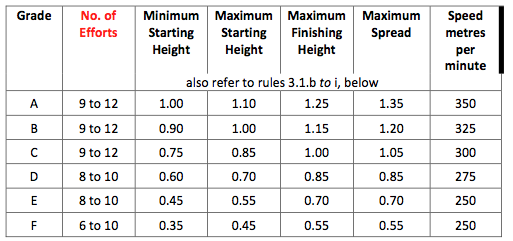 ---
Thank you to our sponsors so far including

Coffee van and catering all day
​
Conditions of entry:
Entry is conditional upon acceptance of these conditions.
Entry Fees:
All entry fees are to be paid prior to the event
Statement of Rights:
The organising committee reserves the right to a) cancel any class or competition; b) divide any class; c) alter times; d) refuse any entry with or without stating the reason. e) No refunds after closing date except with vet or medical certificate. An administration fee of $5 will be deducted.
Disclaimer
: Neither the organising committee of this competition nor the PCAV accepts any responsibility whatsoever for any accident, damage, injury or illness to horses, riders, ground spectators or any other person or property.
PCAV Club Member Cards:
For pony club members, PCAV club member cards must be inspected at the event office before riding.
Armbands:
Medical armbands must be worn by all competitors (applies to pony club and open sections)
Helmets:
Correct 'standards' numbered helmet must be worn as specified in PCAV Gear Rules. Spot checks may occur and incorrect helmet will mean elimination.
Gear Check:
All competitors must present for one PCAV Gear Check per discipline on the day ideally 30 mins prior to the scheduled riding time
Competitor Numbers:
The organising committee will pre-allocate and advise numbers. Competitors may supply their own numbers. Body numbers will be available. Open riders: $5 refundable deposit on body numbers.
Queries, Protests, Horse Abuse:
Queries, protests, horse abuse rules as per the
PCAV Handbook of By-Laws
.
Dog Policy:
Dogs are prohibited without exception.
Horses:
Must be at least 4 years old, no stallions, colts or rigs.
Multiple horses:
More than one horse may be ridden subject to the conditions in the PCAV Handbook of By-laws multiple horse rules
Lunging:
only in specified area as per PCAV By Law 21.1.a-d. We have a new round yard specifically for this purpose!
All participants in an
Open Competition,
Clinic or activity -
including Pony Club Members
- MUST sign a
Public Liability Declaration
Form.
Riders without adequate Insurance Liability Cover MUST ALSO complete the
Day Participant Waiver
and pay $10 per day fee. (second part of the same form)
* Approved insurance
-
Participants who are NOT current members of PCAV, HRCAV, Equestrian Australia* (EA), an Inter State Pony Club, Arab Horse Society of Australia (AHSA), Australian Endurance Riders Association (AERA) and cannot provide proof that they are covered by Public Liability Insurance Policy with a minimum of $10,000.000.00 cover must pay $10 per day to cover the cost to participate.
MEDICAL RESPONSE AUTHORITY
As a competitor you give permission to receive FIRST AID and/or MEDICAL TREATMENT, and being transferred to hospital by ambulance should the need arise during the conduct of the BEPC Show jumping and Dressage Jackpot at Bamawm Extension Reserve on Sunday 8th October 2017. Consent is given to the President of BEPC, or their appointed deputy, to authorize such transfer and to make such emergency medical arrangements as may be deemed necessary by a qualified medical practitioner on my behalf. Before taking this action, the President, or the appointed deputy, must be satisfied that every possible practical effort has been made to contact the accompanying parent/Guardian/Emergency Contact named in the entry. Competitors give authority in the full knowledge that they will be required to pay costs incurred if insurance held by the BEPC does not cover the ambulance transfer, medical treatment or any other costs involved.
HORSE/VETERINARY AUTHORITY
As the owner/lessee of the horse entered in this competition, hereby consent to the Official Veterinary Officer providing such treatment as is deemed necessary to this horse in the case of an accident at the BEPC Show jumping and Dressage Jackpot at Bamawm Extension Reserve on Sunday 8th October 2017. Owner/lessee agree to be fully responsible for all service or consultation fees charged as a result of such accident. In a case where it is deemed by the Official Veterinary Officer that on humanitarian grounds the horse should be destroyed because of illness, injury or accident, consent is given to the Official Veterinary Officer and the President of BEPC or the appointed deputy, permission to act in accordance with the recommendation of the Official Veterinary Officer in this matter. Before taking this action the President of BEPC or the appointed deputy, must be satisfied that every possible practical effort has been made to contact the accompanying parent/guardian/responsible adult named in the entry.
Health of Horse(s)
Horses entered in this event must be in good health, eating normally and not showing signs of respiratory disease during the last 3 days leading up to this event. The Event Secretary has the right to call for veterinary inspection of the horse/(s) should they be showing signs of a respiratory illness at any time during the course of the event. The owner/ lessee agree to pay any veterinary fees incurred as a result of this veterinary examination.
Horse Event Declaration Waiver
Competitors understand that due to diseases such as equine influenza, the Victorian Department of Primary Industries, or other State or Commonwealth government body, may restrict or prevent the movement of horses, vehicles and personnel for a period of time ("Standstill"). I acknowledge and agree that a Standstill is a risk of competing at this event and I agree to pay all costs or expenses incurred for my horse by Northern Zone as a result of a Standstill.